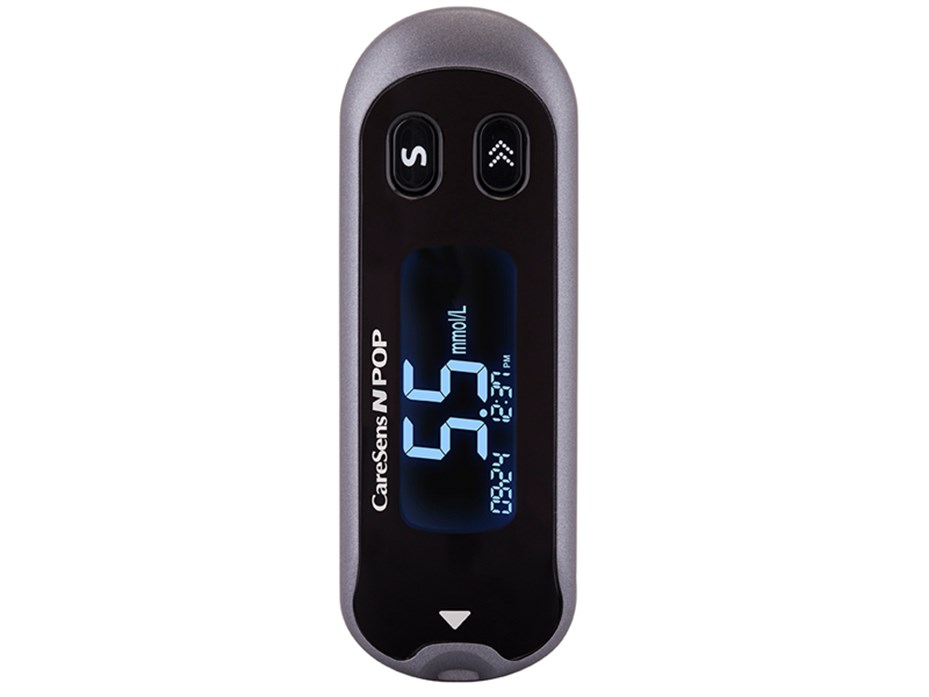 Blood Glucose Meters - CareSens N POP
IS643496
Product overview
The CareSens N POP blood glucose meter is perfect for those who prefer a slim and stylish design. With LCD backlighting, the CareSens N POP is also ideal for low light reading. A no-coding meter, it has a 1,000 test memory, and a range of results averaging, including pre and post-meal. It has an easy set post-meal alarm (a handy reminder to test after eating) strip expiry alarm and hypoglycemia indicator. It can be used with SmartLog software. Test strips required: CareSens N strips.
Order limit of 1 unit applies. If ordering more than 1 unit please contact customer support on 1800 114 610 or email us at support@pharmacodiabetes.com.au.
CareSens N POP meets the ISO 15197:2013 ( The international performance standard for blood glucose monitoring systems)*
No coding
Strip expiration indicator 
Auto-back lighted LCD 
Data port to download data via a USB cable 
Compatible with Smartlog software
1,000 tests values can be stored with time and date 
1, 7, 14, 30, 90-day test averaging (total, pre-meal and post-meal)
Hypoglycemia indicator (1.1 - 5.0 mmol/L)
Battery life of 1,000 tests
Size: 95 x 33.5 x 18.5 (mm) 
Weight: 41.4g (battery included) 
Temperature range: 5 - 50°C 
Relative humidity range: 10 – 90%
Australian Customers: Please note the meter does not come with batteries inserted and time set, due to the different time zones in Australia.
*Data on file
CareSens N POP Inserting the Batteries
CareSens N POP Setting up your Meter - SET Mode
CareSens N POP Setting Alarms
CareSens N POP Checking the Meter System with Control Solutions
CareSens N POP Checking your Blood Glucose
CareSens N POP Checking your Blood Glucose at Alternative Sites
CareSens N POP Errors and other Messages
CareSens N POP Meter Memory
CareSens N POP Manual.pdf

Last updated: 03 April 2017

CareSens N POP - Key Features.pdf

Last updated: 03 April 2017

CareSens N POP - Meter Set-up.pdf

Last updated: 03 April 2017

CareSens N POP - Step 1 Inserting Batteries.pdf

Last updated: 03 April 2017

CareSens N POP - Step 2 Setting Alarms.pdf

Last updated: 03 April 2017

CareSens N POP - Step 3 Testing Blood Glucose.pdf

Last updated: 03 April 2017

CareSens N POP - Step 4 Control Solution Testing.pdf

Last updated: 03 April 2017

CareSens N POP - Step 5 Storing Test Results.pdf

Last updated: 03 April 2017

CareSens N POP - Errors And Other Messages.pdf

Last updated: 03 April 2017
CareSens N POP Hindi.pdf

Last updated: 01 July 2020

CareSens N POP Khmer (Cambodian).pdf

Last updated: 01 July 2020

CareSens N POP Nuiean.pdf

Last updated: 01 July 2020

CareSens N POP Maori.pdf

Last updated: 01 July 2020

CareSens N POP Samoan.pdf

Last updated: 01 July 2020

CareSens N POP Tokelauan.pdf

Last updated: 01 July 2020

CareSens N POP Vietnamese.pdf

Last updated: 01 July 2020

CareSens N POP Tongan.pdf

Last updated: 01 July 2020

CareSens N POP Chinese.pdf

Last updated: 01 July 2020

CareSens N POP Cook Island Maori.pdf

Last updated: 01 July 2020

CareSens N POP Greek.pdf

Last updated: 01 July 2020
You may also be interested in