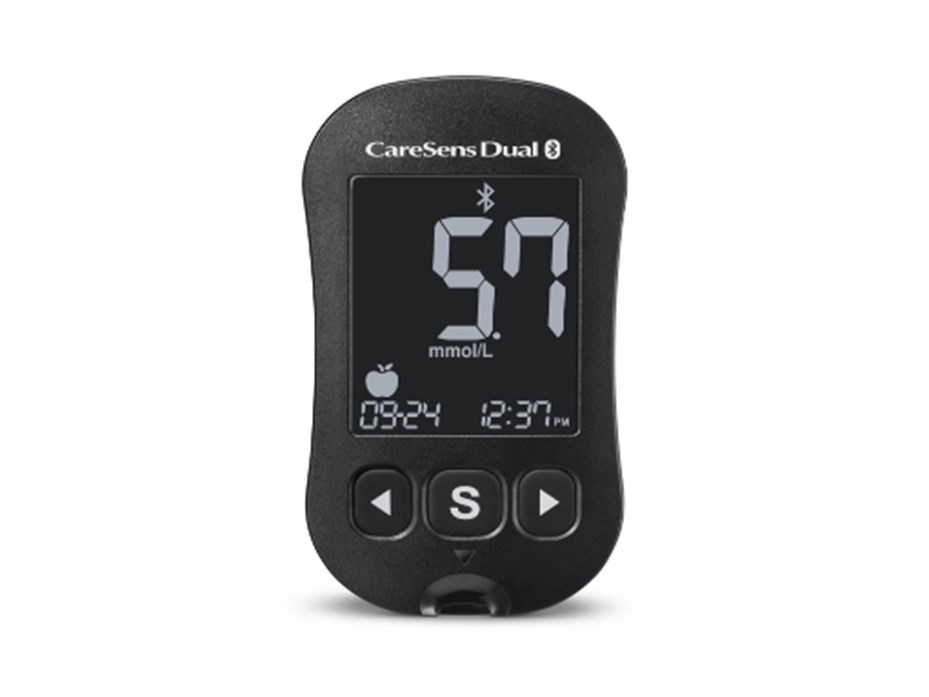 Blood Glucose and Ketones - CareSens Dual
IS643215
Product overview
Being able to monitor both glucose and ketones can be important with type 1 diabetes, and you can do both with the CareSens Dual. To help manage your data, results can be quickly and conveniently transferred via Bluetooth to the SmartLog app on your compatible smartphone. Test strips required: CareSens PRO for glucose testing. KetoSens for ketone testing.
Order limit of 1 unit applies. If ordering more than 1 unit please contact customer support on 1800 114 610 or email us at support@pharmacodiabetes.com.au.
CareSens Dual meets the ISO 15197:2013 (the international performance standard for blood glucose monitoring systems)*
No coding
For blood glucose and blood ketone testing
Sample size

For blood glucose - Minimum 0.4 µL
For blood ketone - Minimum 0.5 µL

Strip expiration indicator 
Strip ejector
Auto-back lighted LCD screen
Data port to download data via a USB cable 
Compatible with SmartLog software
1,000 tests values can be stored with time and date 
Hypoglycaemia indicator
Pre-meal, post-meal and fasting flags
1, 7, 14, 30, 90-day test averaging
Measurement Range 1.1-33.3 mmol/L
Australian Customers: Please note the meter does not come with batteries inserted and time set, due to the different time zones in Australia. 
*Data on file
Inserting Or Replacing The Batteries
Setting the Date and Time
Setting The Strip Expiration Date Indicator
Setting Hypo-Hypergycemia Indicators
Strip Expiration Indicator
Checking Blood Glucose & Blood Ketone
Attaching Flags To Blood Glucose
Checking the Meter System with Control Solutions
CareSens Dual Manual.pdf

Last updated: 01 February 2019
You may also be interested in